Doug Chayka
FOR years, experts worried that the Middle East would face an uncontrollable nuclear-arms race if Iran ever acquired weapons capability. Given the region's political, religious and ethnic conflicts, the logic is straightforward.
As in other nuclear proliferation cases like India, Pakistan and North Korea, America and the West were guilty of inattention when they should have been vigilant. But failing to act in the past is no excuse for making the same mistakes now. All presidents enter office facing the cumulative effects of their predecessors' decisions. But each is responsible for what happens on his watch. President Obama's approach on Iran has brought a bad situation to the brink of catastrophe.
In theory, comprehensive international sanctions, rigorously enforced and universally adhered to, might have broken the back of Iran's nuclear program. But the sanctions imposed have not met those criteria. Naturally, Tehran wants to be free of them, but the
president's own director of National Intelligence testified
in 2014 that they had not stopped Iran's progressing its nuclear program. There is now widespread acknowledgment that the rosy
2007 National Intelligence Estimate
, which judged that Iran's weapons program was halted in 2003, was an embarrassment, little more than wishful thinking.
Even absent palpable proof, like a nuclear test, Iran's steady progress toward nuclear weapons has long been evident. Now the arms race has begun: Neighboring countries are moving forward, driven by fears that Mr. Obama's diplomacy is fostering a nuclear Iran. Saudi Arabia, keystone of the oil-producing monarchies, has long been expected to move first. No way would the Sunni Saudis allow the Shiite Persians to outpace them in the quest for dominance within Islam and Middle Eastern geopolitical hegemony. Because of reports of early Saudi funding,
analysts have long believed
that Saudi Arabia has an option to obtain nuclear weapons from Pakistan, allowing it to become a nuclear-weapons state overnight. Egypt and Turkey, both with imperial legacies and modern aspirations, and similarly distrustful of Tehran, would be right behind.
Ironically perhaps, Israel's nuclear weapons have not triggered an arms race. Other states in the region understood — even if they couldn't admit it publicly — that Israel's nukes were intended as a deterrent, not as an offensive measure.
Iran is a different story. Extensive progress in uranium enrichment and plutonium reprocessing reveal its ambitions. Saudi, Egyptian and Turkish interests are complex and conflicting, but faced with Iran's threat, all have concluded that nuclear weapons are essential.
The former Saudi intelligence chief, Prince Turki al-Faisal, said recently, "whatever comes out of these talks, we will want the same." He added, "if Iran has the ability to enrich uranium to whatever level, it's not just Saudi Arabia that's going to ask for that." Obviously, the Saudis, Turkey and Egypt will not be issuing news releases trumpeting their intentions. But the evidence is accumulating that they have quickened their pace toward developing weapons.
Saudi Arabia has signed nuclear cooperation agreements with South Korea, China, France and Argentina, aiming to build a total of 16 reactors by 2030. The
Saudis also just hosted meetings
with the leaders of Pakistan, Egypt and Turkey; nuclear matters were almost certainly on the agenda. Pakistan could quickly supply nuclear weapons or technology to Egypt, Turkey and others. Or, for the right price, North Korea might sell behind the backs of its Iranian friends.
The Obama administration's increasingly frantic efforts to reach agreement with Iran have spurred demands for ever-greater concessions from Washington. Successive administrations, Democratic and Republican, worked hard, with varying success, to forestall or terminate efforts to acquire nuclear weapons by states as diverse as South Korea, Taiwan, Argentina, Brazil and South Africa. Even where civilian nuclear reactors were tolerated, access to the rest of the nuclear fuel cycle was typically avoided. Everyone involved understood why.
This gold standard is now everywhere in jeopardy because the president's policy is empowering Iran. Whether diplomacy and sanctions would ever have worked against the hard-liners running Iran is unlikely. But abandoning the red line on weapons-grade fuel
drawn originally by the Europeans in 2003
, and by the United Nations Security Council in several resolutions, has alarmed the Middle East and effectively handed a permit to Iran's nuclear weapons establishment.
Rendering inoperable the Natanz and Fordow uranium-enrichment installations and the Arak heavy-water production facility and reactor would be priorities. So, too, would be the little-noticed but critical uranium-conversion facility at Isfahan. An attack need not destroy all of Iran's nuclear infrastructure, but by breaking key links in the nuclear-fuel cycle, it could set back its program by three to five years. The United States could do a thorough job of destruction, but Israel alone can do what's necessary. Such action should be combined with vigorous American support for Iran's opposition, aimed at regime change in Tehran.
Mr. Obama's fascination with an Iranian nuclear deal always had an air of unreality. But by ignoring the strategic implications of such diplomacy, these talks have triggered a potential wave of nuclear programs. The president's biggest legacy could be a thoroughly nuclear-weaponized Middle East.
blogger.com/blogger.g?blogID=8426500885756155590#pages
How Israel Might Destroy Iran's Nuclear Program
| | | |
| --- | --- | --- |
| | | |
The Vienna deal has been signed and likely will soon be ratified, which raises the question: Will any government intervene militarily to stop the nearly inevitable Iranian nuclear buildup?
Obviously it will not be the American or Russian governments or any of the other four signatories. Practically speaking, the question comes down to Israel, where a consensus holds that the Vienna deal makes
an Israeli attack more likely
. But no one outside the Israeli security apparatus, including myself, knows its intentions. That ignorance leaves me free to speculate as follows.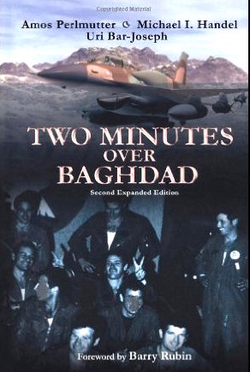 Aerial bombing makes for a dramatic tale.
Three scenarios of attack seem possible:
Aerial
. Airplanes crossed international boundaries and dropped bombs in the 1981 Israeli attack on an Iraqi nuclear installation and in the 2007 attack on a Syrian one, making this the default assumption for Iran. Studies show this to be
difficult but attainable
. Alternatively, bombs can be delivered via rockets.
Special ops
. These are already underway: computer virus attacks on Iranian systems unconnected to the Internet that should be immune, assassinations of top-ranking Iranian nuclear scientists, and explosions at nuclear installations. Presumably, Israelis had a hand in at least some of these attacks and, presumably, they could increase their size and scope, possibly disrupting the entire nuclear program. Unlike the dispatch of planes across several countries, special operations have the advantage of reaching places like Fordow, far from Israel, and of leaving little or no signature.
Nuclear weapons
. This doomsday weapon, which tends to be little discussed, would probably be launched from submarines. It hugely raises the stakes and so would only be resorted to, in the spirit of "Never Again," if the Israelis were desperate.
Of these alternatives, I predict the Netanyahu government will most likely opt for the second, which is also the most challenging to pull off (especially now that the
great powers
promised to help the Iranians protect their nuclear infrastructure). Were this unsuccessful, it will turn to planes, with nuclear weapons as a last resort. (July 16, 2015

MYTH:
Attacking Iran will create more instability in the Middle East.
FACT
More instability?! Have the proponents of this idea been following the news for the last two years?

Among the possible worst case scenarios, it is conceivable that a military strike on Iran would cause a backlash among peoples in the region angered by an attack on a Muslim nation; it may unite the Iranian people in defense of their country; or, current rulers of conservative regimes may come under attack for complicity in the attack.
MYTH:
An Israeli attack on Iran would endanger U.S. interests in the Middle East.
FACT